The season of Lent is the steady march toward the events of Holy Week. It's also an incredible season to invest time in your spiritual development. We believe the resources we've curated will help you to do that very thing – whether diving deep into the Scriptures or practicing prayer. I can't wait to hear how God uses these resources for your growth in Him. God's peace in the journey.
FAMILY FAITH KITS

For those with Pre-K – 5th graders, our Family Faith Kits have been designed with Lent in mind. These are incredible resources so that a family can sit down, learn scripture together, discuss its meaning and then do an activity to cement that meaning in both minds and hearts.
For more information, please contact heatherp@holycrossjenison.org.
DIVING INTO SCRIPTURE
Beginning FEB 17: 5-7 minute audio devotions (podcast) every Wednesday until Easter delivered to your email. Centered in Lenten-themed scriptures and delivered by multiple voices from our Holy Cross Staff, including both women and men. Subscribe to our podcast and you will automatically receive these.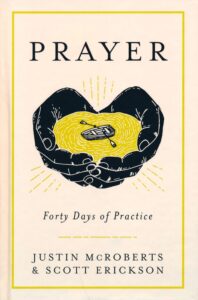 PRACTICING PRAYER

Using Prayer: 40 Days of Practice written by Justin McRoberts & Scott Erickson. We will read and pray together, utilizing a provided reading plan. And, for those wanting a community experience, we'll be gathering via Zoom beginning Wednesday, FEB 24th at 7:00pm (and continuing every Wednesday after until Easter). Books can be purchased at Church ($10) or you can go online and order your own.
Through the season of Lent, we'll be engaging in the spiritual practice of prayer – using McRobert's and Erickson's book as a launching pad. This book is different and dangerous, it's convicting and encouraging, it's words and images. We are hopeful it will spur your prayer to greater depths. Reading schedules can be found at church.
For 2021 Prayer Forty Days of Practice Reading Plan click here.
PRACTICING PRAYER ZOOM MEETING