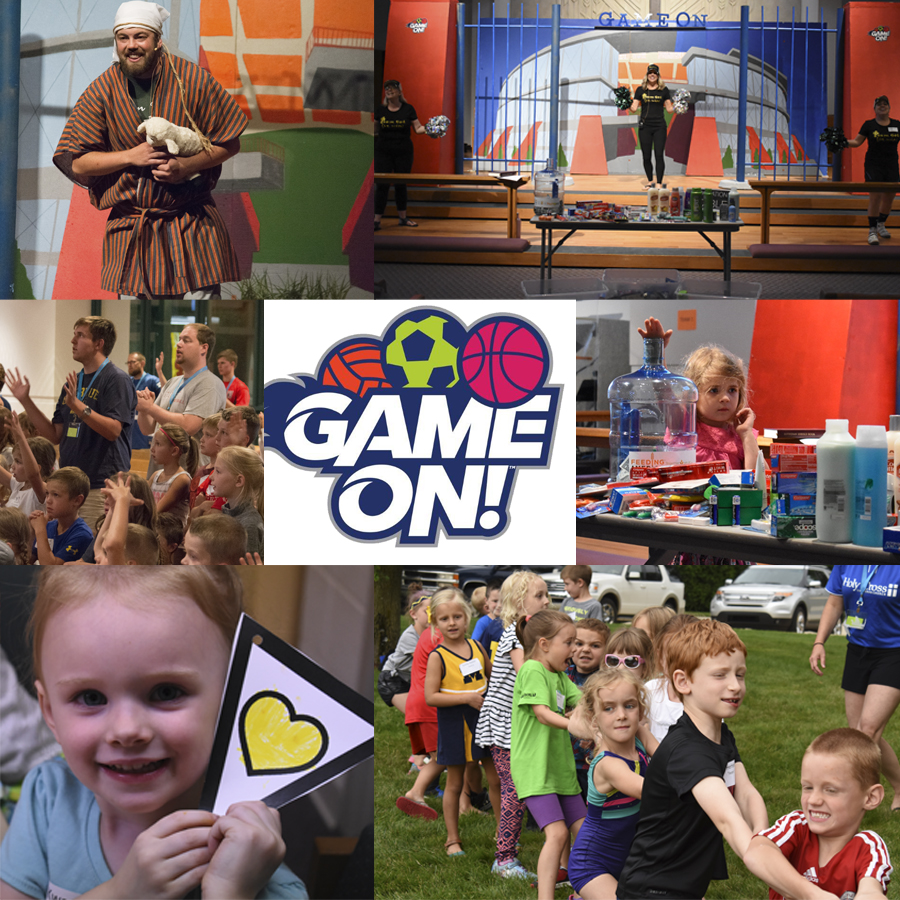 Kids' Bible Camp
For four days at Kids' Bible Camp, we were able to share the love of Jesus Christ with 175 kids (95 families). Through song, games, crafts and Bible adventures, we were able to experience God's word in fun, hands-on ways. Not only were the kids blessed, but parents as well, with personal time while their kids were being cared for. One parent shared, 'I wasn't familiar with Holy Cross, but saw the sign about Kids' Bible Camp and signed up my child. I was able to make a connection with another parent while my child was attending.' Each year at Kids' Bible Camp, we provide a mission project that gives the kids an opportunity to help others in need. This year, our kids were able to raise $283.84 and donated hundreds of toiletry items to help sponsor the Feeding America Community Breakfast and Food Truck being held on July 21. Also, a big thank you to the 60+ volunteers that made this week possible.
-Heather Pytlowanyj, heatherp@holycrossjenison.org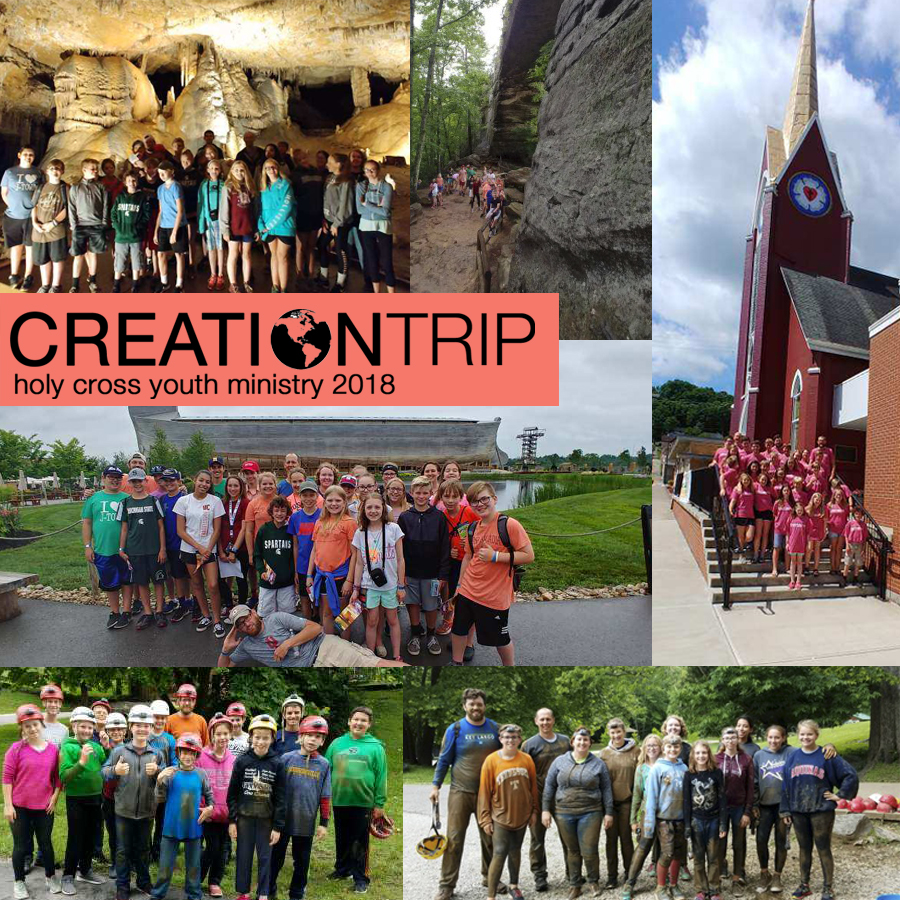 Confirmation Creation Trip
For five days the Confirmation Creation Trip team went in, on and over the earth.
Our first stop - Morango Caves, Indiana was where we geared up with caving clothes, helmets and head lamps to crawl through cold, wet and muddy caves. For many students this was the highlight of their trip. "It is a completely different world underground!"
Our next stop – The Creation Museum & Ark Encounter offered countless examples of God's eternal power in what He has created.  Time after time, students shared "this really has helped me answer questions I have had when it comes to science and faith." Also a student shared "how grateful they were that there are Christians who have put together such helpful museums to help them believe more."
Our final stop – Natural Bridge SP, Kentucky offered us the chance to hike up to and over the earth on a natural bridge of rock. One student shared that it was "great to sit in silence and look over the valley taking in all that God had created in this place."
On so many levels, this trip was a success as student after student shared "My faith is stronger since I got to go on this trip!".
-DCE Jim Hueseman, dcejim@holycrossjenison.org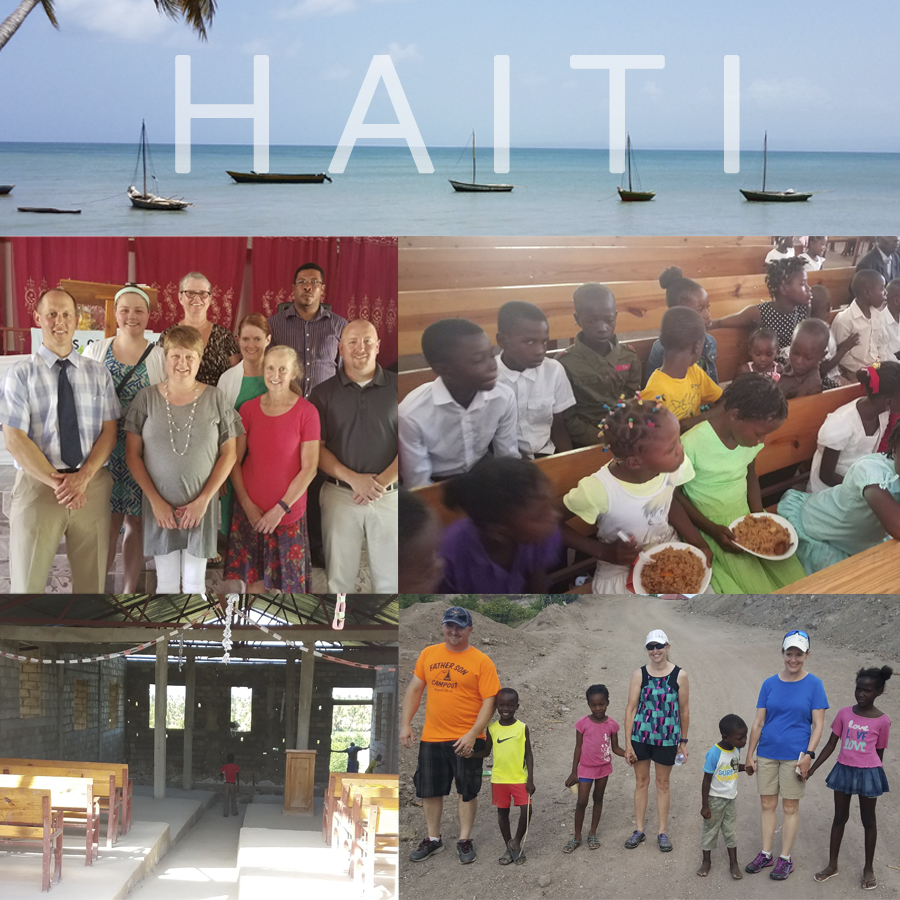 Haiti Mission Trip
The recent mission trip to Haiti was about multiplication of mission and ministry. The team was assembled for the purpose of discovering how our talents and interests fit with the needs and opportunities in the Haitian communities that Holy Cross supports, so that the current team members could be future team leaders in their specialty areas. None of the others had been to Haiti previously, so I witnessed God opening the hearts and minds of each of them as they saw the sights – some beautiful, some raw and ugly – of Haiti, talked with the people, and evaluated how God can use them now and in the future.
We brought blessings from Holy Cross by providing supplies and designating funds for a variety of ministries so that they could continue after we had left: Bibles, songbooks, keyboards, and pastoral funding for two churches; money for building chicken coops that will be used to support an orphanage; funds for school doors so that rooms can be secured and teachers can have desks, chairs, and storage spaces; puppets, children's bells, wireless microphones and a Bluetooth speaker (Leon's personal favorites!) for worship services; funds for a community meal after a combined English-Haitian worship service; and medicine and metal storage boxes for the meds for the medical clinic that is currently being built. It was amazing to see God working in the team and to see how God is active in Haiti! Thank you for your support, Holy Cross!!
-Troy Ernst,  troyjernst@gmail.com