Christmas Is For Sharing
The Bible says in Deuteronomy 16:17, "Every man shall give as he is able, according to the blessing of the Lord your God which He has given you." We are praising God for the multitude of generous donations collected during the month of December for our Christmas is for Sharing ministry. This year, we were able to bless seven families through this ministry, and see that they all had a wonderful Christmas! It is always a very heartwarming time of year to be able to sort and prepare all the gifts for delivery to these families. I am touched by the love and care our congregation shows to help those in need in our church and community. Thank you Holy Cross, God's richest blessing to you this New Year.
-Kelli McCready, kmccready@holycrossjenison.org
Homeless Care Kits – Seeing Humanity
Homeless Care Kit Handout – We had 15 Confirmation students, 10 High School students and 6 adults from Holy Cross join dozens of other students and adults from GR metro churches to create and handout care kits. Our backpacks were stuffed with hygiene items, gloves, hats and fleece blankets. We split into groups and headed out to the city streets to give away these items. We also got a chance to engage the folks living on the streets, hearing their stories and praying for these folks.
As we debriefed this experience students shared how doing this event helped them:
Gain an understanding that these people are human and very much like themselves.
Understand the power of addiction as many of the folks we met asked for prayers for sobering up and for freedom from their addiction to drugs.
See how the folks living on the streets look out for each other as they encouraged us to give items they didn't need to other people they know on the streets.
Seeing the humanity of those in difficult situations will hopefully continue to shape the hearts of our students to be compassionate followers of Jesus.
Submitted by Jim Hueseman, DCE
55+ Adult Ministry – Helping Foster Friendships
The Holy Cross 55+ Adult Ministry got to host a Game Night & Potluck that helped foster new connections among believers at Holy Cross.  Jesus invested in relationships with other believers, so it is wise for us to do so as well.
It was "too much laughter and excitement for us old people!" said one participant.
Fun and laughter are great, but it was much more than that.  The game night was on a Saturday.  On the following Sunday morning, Pat Norton, one of the lay leaders for 55+ ministry, was greeted as she entered church with, "I can call you by name now because I know who you are."
On Sunday afternoon Pat got an email from another person that said "Thank you for the wonderful time last night.  I met a lot of people while playing Euchre.  What a nice way to get acquainted with them.   This morning at church it was nice that we said hello with a smile instead of just passing by as we must have been doing before."
There are more 55+ Ministry events to come, so keep an eye on the calendar and announcements.  If you choose to attend, know that you'll find not just fun, but friends…friends that follow Jesus and will encourage you to do the same. You could, like Pat, help other followers of Jesus find the connections and support we all need.
-Pastor Adam and Kelli McCready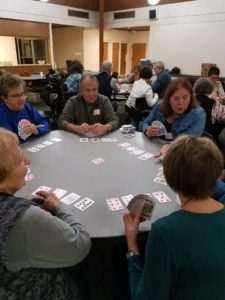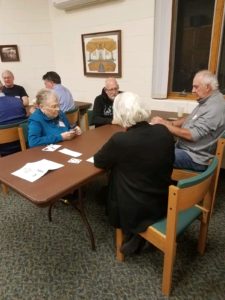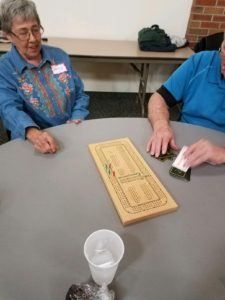 Podcast Ministry
In September, we started posting a podcast version of our Sunday sermons and bible study online. This was done to be a resource for the congregation at large, broadening the opportunity to stay connected to Holy Cross on weeks they are away from church. One benefit that wasn't completely anticipated was the blessing this provided to our leaders on Sunday mornings. 50 adult members volunteer every week during education hour, supporting our children's, confirmation, and high school education hour. This commitment, while spiritually enriching in many ways, does not allow for them to spend time in bible study led by a pastor.
One high school small group leader said: "I listen to the podcast mostly on my commute. It's great for my daily drive to Holland from GR. I really enjoy it because it's a deep dive into the Bible, looking at it in its historical context and then relating that to today's culture. Because I'm with the high schoolers on Sunday mornings, I can't attend the class in person, but being able to follow along through the podcasts is awesome because I still feel connected to what is being taught and discussed!"
Thank you to Scott Rogers and Sarah Zorn for making this possible!
Submitted by: Tyler Osmun