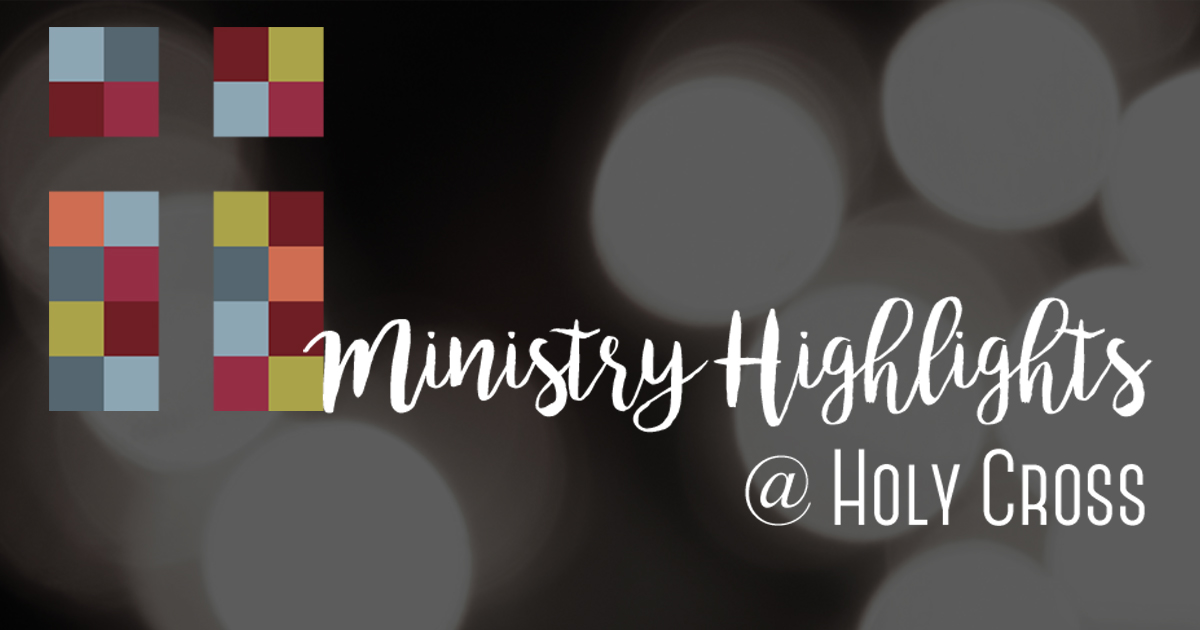 Brian West Installed at Senior Pastor on April 14th
Installation Day was a day receiving amazing gifts from God. With 681 people in attendance for the one worship service the combined energy and excitement was unmistakable. Pastor Pete Larsen, founding Pastor of Holy Cross, officiated the installation and helped direct us… that while he had been the leader in the past, we need to look toward how God would guide us into future through the leadership of Pastor Brian. Thanks to everyone supported the service—fine arts, those serving in the narthex, with the meal, with technology—it was a beautiful collective effort to set us on track to be together in what's next.
-Pastor Adam
Women Serving to Help End Sex Trafficking
On Friday night, April 26th, Deb Ellinger, Director of Elli's House, shared with over 40 ladies of Holy Cross and the community how she is sharing the love of Jesus with people in Detroit. The ministry she leads is mainly focused on caring for sex trafficked women who are in need of physical resources and a safe home to escape to.
Those women who gathered to hear about this ministry also partnered with it. They packed 150 snack and hygiene kits and wrote encouraging personal notes to include with each kit. (Thank you to everyone who donated items to help build these kits! There was plenty of supplies to build the kits and even extras to send along with her.)
Deb left with her vehicle well stocked to continue her street ministry where they are able to distribute these resources, develop safe relationships, see God at work in different people's lives, and experience "God moments" that encourage them through this mission opportunity.
Deb was joyfully overwhelmed as she wrapped up the evening…not just by a car full of supplies, but by a heart full of appreciation for the way that the women gathered around her, laid hands on her and prayed for her and God's work through the ministry of Elli's house. There were tears in the eyes of many as the women sent Deb to continue on the mission God has given her.
Throughout the evening, women enjoyed table conversations, dessert, and a chance to support and care for other women. It was best said by one attendee, "Such a great night to help other women…God is truly at work within Elli's House."
For more information on this ministry see:  https://ellishouse313.wixsite.com/endslavery
-Katie Hueseman, Women's Ministry Lay Leader; Pastor Adam, Staff Support for Women's Ministry
Confirmation 2019 and New Members
On Sunday April 28, we welcomed many new members of Holy Cross. At early service, we held our semi-annual new member celebration. 14 new members representing 6 families from many different faith backgrounds were introduced to the congregation. At late service, this years class was confirmed as members of the Lutheran Church. 11 students participated in the confirmation service. It was an exciting day wrapping up a full month of "new" at Holy Cross!
Be sure to welcome all our new members! We are excited to be on mission together!