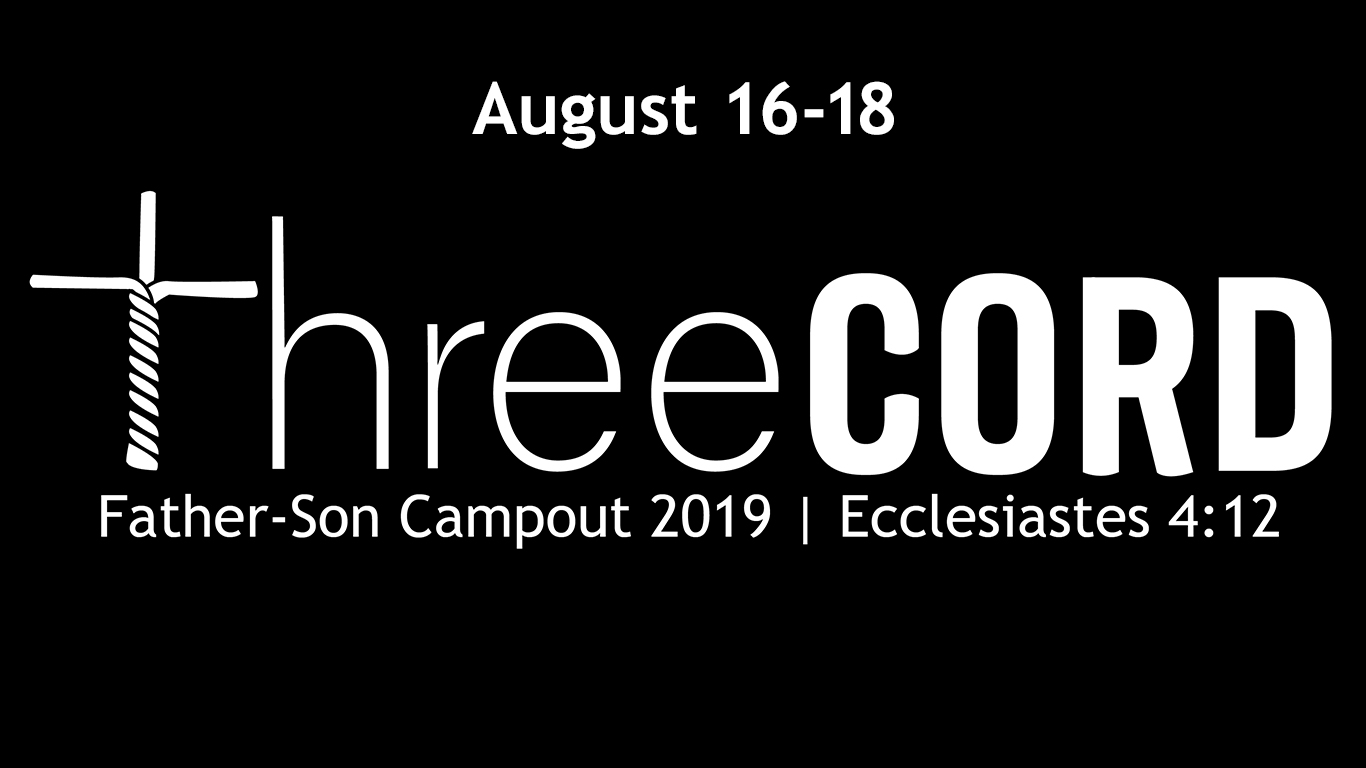 The theme this year will be "Three-Cord" based on Ecclesiastes 4:12 that talks about a three-cord rope not being easily broken.
We will all be encouraged to stay connected to Jesus and one another.
Our weekend will be spent at Camp Concordia in Gowen, MI. (www.campconcordia.org) Each family will have their own site, but our sites will be all together. Campers (pop ups / 5th wheels / etc.) and tents are all welcome to be used for the weekend. There is water and electric hook ups available at each site. There are also cabins that are available for an additional cost.
The registration fees (listed below) will cover ALL camping, food, t-shirt and activity costs.
Here are some more details for you to consider as you decide on attending the campout:
Provided items:
– Water – Lemonade – Coffee – Saturday Breakfast, Lunch and Supper | Sunday Breakfast – T-shirt – Supplies for Other Activities.
What to bring:
· Community Snacks to share (chips, cookies, any snack will do)
· Yard Games (washers, ladder golf, etc.)
· Tent & sleeping gear (air mattress if needed)
· Personal Snacks & Pop / beverage (no alcohol please)
· Cooler & Ice for personal items
· Outdoor clothes
· Toiletries/bath towel
· Flashlight
· Bible's
· Swimming gear: suit, towels, life jackets, water toys
· Fishing gear (if interested)
· Bug Spray & Sun Screen
· Camping Chair
What not to bring:
· Electronics: personal game or audio systems (i.e.: iPods, Nintendo ds)
· Alcohol
If you have any questions regarding the campout please contact DCE Jim at dcejim@holycrossjenison.org
If you are ready to sign up please fill out the form below.
If you would like to pay check please click the first submit option.
Bring Check to the Front Office at earliest convenience.
If you would like to pay by paypal please click the second submit option.