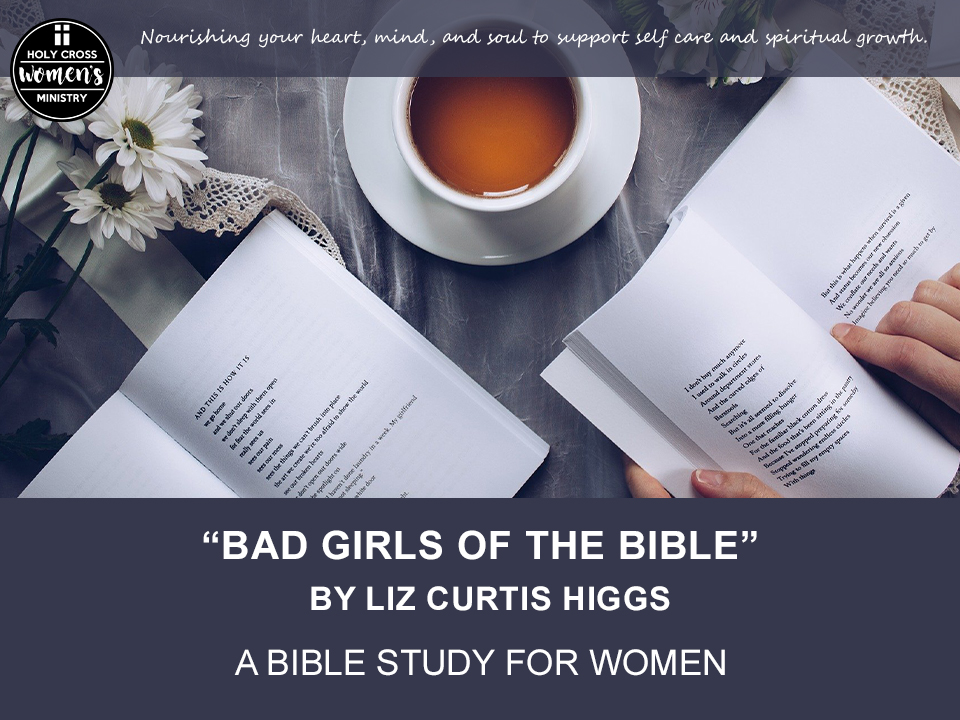 "Bad Girls of the Bible" by Liz Curtis Higgs -Saturday Morning Bible Study for Women
Holy Cross Women's Ministry invites you to attend the "Bad Girls of the Bible" in-person bible study at church on 2nd and 4th Saturdays 9am-10am. We'll use the "Bad Girls of the Bible" discussion guide and RightNow media video teachings to support this 10-session study. Each session will include time to connect with other women and learn from the life of one of the "bad girls" in the Bible. This is an opportunity for nourishing your heart, mind and soul to support self-care and spiritual growth.
Overview of the Study: We'd like to think that we fit into the category of "good girl" all the time, but that's not always what we see in the mirror. So what's a good girl to do? Learn from the lives of the "bad girls" and choose a better path. With her trademark humor and encouragement, beloved Bible study teacher and speaker Liz Curtis Higgs, combines a contemporary retelling of the stories of these "other women" in Scripture with a solid, verse-by-verse study to teach us how to avoid their tragic mistakes and joyfully embrace grace.
You'll need a book in order to fully participate. Books can be purchased online at https://www.amazon.com/Bad-Girls-Bible-What-Learn/dp/03077319 or from the church office (we have a few copies available.)
This study will be led by Holy Cross members Jeannette Pollatz and Karen Fox. Please direct your questions to them.
Jeannette Pollatz: jpollatz@hotmail.com
Karen Fox: karensuefox@hotmail.com